As a business owner, you face an ever-changing legal landscape. You don't want to risk making a costly mistake. But you also don't want to spend an arm and a leg on a good attorney.

With BizCounsel, you'll work with a modern business attorney for a price that's actually affordable. You'll have an attorney who's got your back— today, tomorrow, and as your business grows.
Save Thousands on Legal Fees
BizCounsel is like your local business attorney, but without the expensive hourly fees. Our attorneys are backed by modern technology to make legal services more efficient.
Get Personalized Legal Help, Easier than Ever
Contracts. Employment issues. Structuring questions. Tax concerns. Whatever the issue, it's now easier than ever to get the legal help that you need.
Never Pay by the Hour Again
When you need a custom-drafted document or government filing, you'll always know the exact price upfront. With BizCounsel, you'll always have price certainty.
Helping Growing Businesses Succeed
Work Directly With a Dedicated Business Attorney
With BizCounsel, you'll get direct access to your attorney on demand. Work with an attorney that really knows you and your business.
Get Contracts Reviewed Quickly and Conveniently
Need to make sure a contract is OK to sign? We'll cut through the legal jargon and analyze the fine print to make sure it's fair.
Maximize Your Tax Deductions with Professional Tax Advice
Get advice and guidance from experienced tax professionals. We'll make sure you're taking all the deductions you deserve, and avoiding traps that raise red flags.
Modern Legal Services at an Unmatched Value
Basic
$89/mo
Unlimited consultations with a dedicated attorney that can grow with your business.
Upfront, flat-rates for any custom document drafting
No cost registered agent services included ($300 value)
Premium
$129/mo
All the features of Basic, plus:

Two contract reviews of 10 pages or less included per month ($300 value)
Access to BizCounselNOW™ - Get quick answers to questions and short documents by email
On-call tax advice and discounted tax preparation from a team of tax professionals
Pro
$189/mo
All the features of Basic and Premium, plus:

Add 5 extra pages to your included contract reviews (15 total pages per contract) ($470 value)
No cost registered agent services for up to 3 entities ($900 value)
Compliance Monitoring and Filings -- We'll proactively file reports to ensure compliance with Secretary of State regulations
Typical business attorneys charge $300 or more per hour. You save up to 85% with BizCounsel!
Plus, BizCounsel is tax deductible.
Meet a Few of Our Attorneys
BizCounsel attorneys average 15 years of experience and specialize in helping your business succeed.
Neil Siegel, Esq.
"I enjoy watching businesses flourish with my help, and most importantly developing a relationship with the members of the business who are seeking my help."
Don Ho, Esq.
"As a several time business owner myself, I have been in their shoes and I know how stressful it can be to have legal issues. I enjoy helping out the "underdog" get where they want to go in business."
Eleanor Curry, Esq.
"With BizCounsel, I'm able to add legal counsel to my clients' business success team. So when they face a legal issue, I'm able to step in and let them focus on what brings them the most success."
Keith Strahan, Esq.
"Entrepreneurship and small business are the backbone of a healthy society and economy. I can't think of any better job than to help sustain and build such an important part of our communities."
Derek Saunders, Esq.
"I particularly enjoy working with small businesses and startups because I can make a significant contribution to their growth and ultimate success while serving as a close advisor during the process."
Nuzayra Haque, Esq.
"I am a business owner myself and I understand the hard-work, effort and love it takes to create a business from scratch. I like working with business owners because I see myself, my family and my friends reflected in them."
James M Spielberger, Esq.
"I am entrepreneurial by nature and like to help others fulfill their business goals and aspirations"
Peter Haber, Esq.
"Working with small businesses makes me a better attorney because I have to weigh a plethora of legal considerations, and advise companies in often unclear situations. It is fun, important, and fulfilling work."
"Moving to BizCounsel for our legal needs has saved us time, money, and most of all, unnecessary stress."
Daniel F., Owner
"Our relationship with BizCounsel has been a vital part of our company's success."
Sulynn C., Owner
"I call my BizCounsel attorney any time something legal comes up, so I can pay attention to running my restaurant and serving my guests."
Mark Verge, Owner
"Using BizCounsel has eliminated the need for hiring a full-time attorney to keep our business running."
Mark Mittleman, Owner
""BizCounsel has saved our company thousands in legal fees.""
Max D., Owner
Leaders in Innovation
Our Founders helped start LegalZoom. For over 20 years, we've been on a mission to modernize the delivery of legal services.
Modern Technology
We're passionate about increasing speed and efficiency. With A.I. document review and drafting tools, our attorneys can work up to 5x more efficiently.
Modern Legal Practice
Schedule appointments online. Get fast answers through our web portal. Our CRM gives you greater access while helping attorneys reduce their overhead.
Predictive Legal Help
We'll identify issues before they become problems. We also notify you of changes in the law that affect your business. At Bizcounsel, we've got your back.
Real legal advice without paying by the hour
Get guidance on issues including:
Employee Issues
Trademarks
Letter Drafting
Vendor Disputes
Copyrights
Creditor Disputes
Cease & Desist Letters
Promissory Notes
Contract Disputes
Debt Collection
Leasing Agreements
Contractor Questions
Business Structuring
Demand Letters
Breach of Contract
Partnership Disputes
Corporate Compliance
Sales Agreements
Licensing Issues
Client Disputes
Employee Handbooks
Corporate Minutes
Incorporation
Services Agreements
Have an attorney at your fingertips
Have a legal issue? No sweat. Just schedule a call and your BizCounsel attorney can help you sort it out.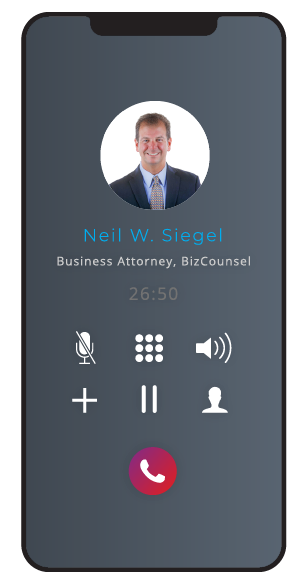 Daniel F
White Fox Vineyards
Should I revise my employment agreements because of recent changes in the law?
Dan G
Oxford Road
Can you help me collect an unpaid debt?
Sulynn C
Ararat Pharmacy
How can I restructure my business to reduce taxes?
Mark Mittleman
Punta Cabras
Should I file a trademark for my business?
Have your attorney review contracts
before you sign
Know exactly what you're getting yourself into and get peace of mind.
Find hidden "gotcha" clauses
With legalese stuffed into most contracts, it's easy to miss crucial details. Our attorneys are trained on how to find and fix those "gotcha" clauses.
Reduce litigation risk
At the heart of most business disputes is a poorly drafted contract. Your attorney can suggest changes and edits over the phone to fix any issues.
Your attorney has your back
You'll be more confident when you know exactly what's in your contract before you sign it. Your attorney is always looking out for your best interests.
Custom-drafted legal documents
with transparent pricing
When you join BizCounsel, these are a few of the custom-drafted documents you can have your attorney draft for an upfront, flat-fee.
Non-disclosure Agreement

Promissory Note

Employment Agreement

Independent Contractor Agreements

Demand Letter

Debt Collection Letter

Website Privacy Policy

Website Terms and Conditions

Cease & Desist Letter

Consulting Agreement

SAFE Agreement

Convertible Note Agreement
A Suite of Powerful Services
Included When You Join Bizcounsel
Direct Attorney Access
Schedule appointments with your dedicated BizCounsel attorney online, or contact your attorney by email for quick questions and updates.
Proactive Legal Alerts
We keep you informed of changes in the law that affect your industry, giving you peace of mind that you're doing things right.
Maximize Tax Deductions
Get tax advice and guidance as part of your BizCounsel membership. Includes discounted tax preparation services.
Corporate Compliance Made Easy
As part of your membership, we can serve as your business entity's registered agent. We can also proactively file required reports with the Secretary of State.
"BizCounsel members can get legal advice from its network of business attorneys, without paying by the hour."
"The model also changes the economics for lawyers and their practices, enabling them to serve more clients and charge them less."
"BizCounsel is the natural progression from LegalZoom."
"A unique startup — BizCounsel — might be the answer."
Learn how BizCounsel can help your business